GOING DIRTY | The Art of Negative Campaigning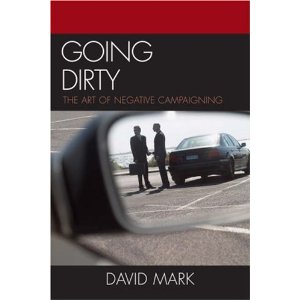 "Going Dirty" is a history of negative campaigning in American politics and an examination of how candidates and political consultants have employed this often-controversial technique. David's book includes case studies on notable races throughout the television era in which new negative campaign strategies were introduced, or existing tactics were refined and amplified upon.
"Going Dirty" has won wide acclaim in popular and academic audiences. Several college Political Science professors have adopted "Going Dirty" in course curricula. While "The Daily Show with Jon Stewart" also featured the book when David was interviewed.
REVIEWS ABOUT "Going Dirty"
"While scholars and pundits alike bemoan negative campaigning, Mark points out that American voters notice when negative comparison ads lapse into invective, and in those cases, he argues, those ads fail."
—Leah A. Murray, Political Science Quarterly
///// more
David's latest book is Dog Whistles, Walk-Backs and Washington Handshakes: Decoding The Jargon Slang and Bluster of American Political Speech. Written with Almanac of American Politics Co-Author Chuck McCutcheon, Dog Whistlesdecodes what politicians really mean when they use odd-sounding, insider-ish phrases.
With a forward by author, journalist and television analyst Jeff Greenfield, Dog Whistles will help you keep up your antennae on high alert for intentionally-confusing language by political types of both parties.